Jul 17
A wonderful send off for Christopher Butterworth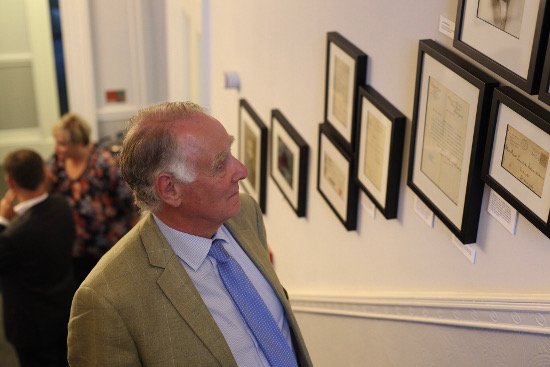 On 6th July Partners and staff past and present, family and business contacts attended an event at Raworths to mark the retirement of Christopher Butterworth, a well-known and respected legal figure in the area.
The event also saw the unveiling of the 'Raworths timeline', showcasing the firm's long history and proud heritage which all began with the founder Edwin Raworth.
Christopher, a part of Raworths since 1966, was the third generation of the Butterworth family to have headed the law firm which was established in 1887. Starting out as an articled clerk (and despite his own indifference to a future in the law) Christopher soon carved out a successful career for himself, becoming a partner in 1972 and managing partner in the 1990's.
Christopher's vision, forward thinking and tenacity, combined with his energy and enthusiasm steered the business for over three decades. A progressive character, he embraced change, helping to build the company's diverse offering and making it one of the region's leading law firms providing a complete range of services for both business and the individual.
Before the emergence of specialisms, Christopher's work and experience ranged from personal injury and family law, through to criminal, employment, commercial litigation and commercial work. Owing to a keen interest in science and technology, he became a pioneer of early IT systems, setting up one of the first computerised debt collection services in the country. Latterly in his career Christopher specialised in mediation, being widely regarded as one of the most experienced mediators in the country.
Zoe Robinson, Managing Partner said: "It has been Christopher's vision throughout the years that has shaped Raworths. An innovative thinker, in the early 1990's it was Christopher's progressive attitude that saw Raworths move away from being a traditional solicitors firm of generalist lawyers to a legal practice employing specialists. This pre-empted the development of our commercial team in 2001and has resulted in Raworths being the standout full service firm that we know today.
"Christopher has been behind so many initiatives that still exist today. He was also instrumental in the extension to our offices at Eton House, so you could say he is part of the firm's blueprint. His exceptional contribution to Raworths is difficult to articulate, his support and experience has been invaluable and he will be much missed by all of us."
Christopher retires in North Yorkshire where he lives with his wife. He now hopes to be able to spend more time enjoying his hobbies with greater freedom, which include fly fishing, sailing, country pursuits, and more recently being a grandparent.