Feb 13
New Team to Lead Raworths as Butterworth Steps Down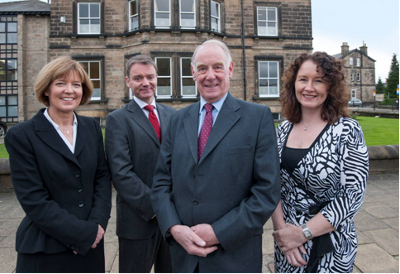 Christopher Butterworth, senior partner at Raworths, Harrogate's leading law firm, is to step down from his role and the firm will now be led by partner Zoe Robinson supported by a senior management team. Christopher Butterworth is one of the longest-serving senior partners in any Yorkshire law firm having been a partner since 1973 and the change brings an end to three generations of the firm's leadership by the Butterworth family.
The move comes after the firm celebrated its 125th year in 2012, the Butterworth family having been connected with Raworths since its inception in 1887 when Christopher Butterworth's grandfather joined the firm. Christopher Butterworth will continue as a partner and member of the Board of Management but he believes it is time for the younger generation of partners to take the lead.
"I have been involved in Raworths one way or another all my life and being the third generation of my family I have a particularly strong desire to see it continuing as  a successful practice into the future.  A core element of our plans over the last few years has been to bring on a younger generation of outstanding partners to succeed me and other partners as we have retired."
Christopher Butterworth remains an important figure in the firm and will be part of the four-strong management team made up of managing partner, Zoe Robinson, Simon Morris,  Deborah Boylan and himself. He confirms:
"I have no immediate plans to retire for good, but it is right for me formally to take a back seat and for the roles that I have had to be passed to others."
He started his career as a litigator and built up and ran the firm's contentious team for twenty five years before becoming the full-time managing partner of the firm over twenty years ago. He was a pioneer in the use of IT in legal practices and for a time also dealt with non-contentious commercial matters. In recent years he has built an international reputation as a highly effective civil and commercial mediator.
The new Board of Management will be led by specialist family lawyer, Zoe Robinson who joined the firm in 1989. She is a trained Collaborative Lawyer and an Advanced Member of the Law Society's Family Law Panel. She is also an experienced mediator and Practitioner Member of the Law Society Family Mediation Accreditation Scheme. Particular areas of expertise include financial issues on divorce or separation, particularly for high net worth individuals where business and farming assets may be involved. Her work has included national and international cases.
"I am delighted to step into this exciting management role. The profession as a whole faces many challenges but Raworths' reputation as a leading North Yorkshire firm stands us in good stead. Our recognition in Chambers UK Directory and the Legal 500 demonstrates the high level of expertise we bring to every case – whether for business or private clients. I have an excellent team behind me and Christopher Butterworth's role on the management board will ensure a smooth transition and we will continue to value his skills and outstanding professionalism."
The other members of the management board are Simon Morris and Deborah Boylan. Simon Morris is head of Corporate and Commercial in the firm. He joined from DLA and specialises in advising privately-owned businesses on the full spectrum of their commercial needs, working closely with business owners and their advisers. His work includes sales and acquisitions, structuring and succession planning, shareholder agreements and joint ventures.
Deborah Boylan joined Raworths in 1998 and is head of the Employment team. She provides strategic advice on all manner of human resources issues at all levels for businesses including dealing with contentious claims in the Employment Tribunal.  Deborah leads a team of talented employment lawyers and runs a regular programme of seminars for business clients dealing with employment issues.  Deborah is also a trained accredited mediator and provides a unique workplace mediation service.
Managing partner Zoe Robinson says: "Our strategy is simple – to deliver a comprehensive service to both businesses and individuals which consistently exceeds expectations in both quality and value for money. We have an outstanding team of individuals who are practical problem-solvers, personable and are highly committed to their clients. With this strategy we want to continue to develop a centre of legal excellence in Harrogate and the wider community."