Sep 19
Mini-library returns to mark the 2019 Raworths Harrogate Literature Festival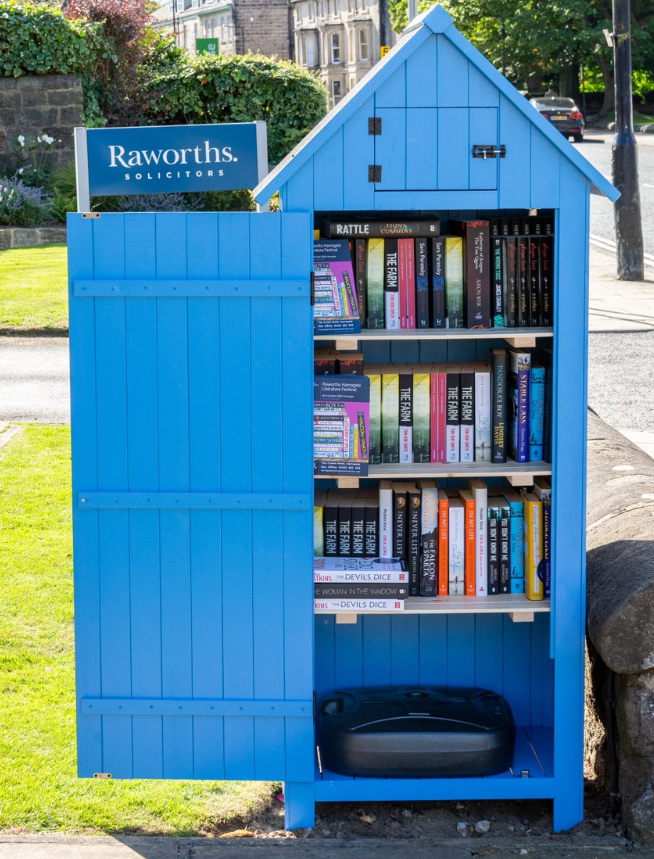 The mini-library scheme, launched last year by Harrogate International Festivals, has returned to Harrogate to encourage reading and raise awareness of the flagship literary festival of which Raworths are title sponsors.
Raworths will be hosting one of the libraries at the front of its office on Station Parade, whilst another will be located outside the Festival office on Cheltenham Parade.  Books can be accessed 24 hours a day, with the idea people can take and replace books.
The arrival of the mini-library coincides with the start of the UCI 2019 Road World Championships, and with Raworths offices being located minutes from the fan park it is anticipated there could be a higher demand for books than usual, as thousands descend on the town to enjoy the cycle racing.
Zoe Robinson, Raworths' Managing Partner, said: "We're delighted to be able to bring the mini-library back to our offices in our eighth consecutive year of sponsorship of the Raworths Harrogate Literature Festival. We hope passers-by will enjoy the opportunity to browse and we're bracing ourselves for a higher take up this week with the UCI cycling races taking place!"
The mini-libraries build on an aim of Raworths Harrogate Literature Festival to promote reading and literacy. It is also hoped they might encourage an appreciation of libraries in the community.
Zoe continues: "Above all else we hope to encourage an appreciation for reading. The mini-libraries are a great way to reach new audiences, encouraging readers to try something new and inspiring them to come and see authors speaking at the Festival."
Taking place at The Crown Hotel, Harrogate from 17 to 20 October 2019, this year's line-up features more than 20 recently published authors –ranging from much loved television presenters and historians to speech writers, business leaders and music critics. For more information visit https://harrogateinternationalfestivals.com/raworths-literature-festival/