Dec 12
Law Firm Celebrates 125 Birthday Third Time Lucky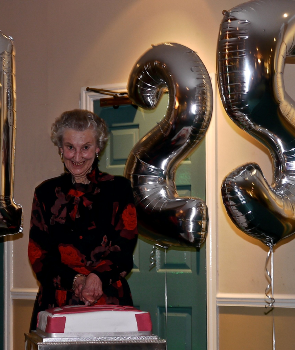 Raworths, Harrogate's leading law firm has finally celebrated its 125 birthday with a party at the Pavilions at the Yorkshire Show Ground. Two outdoor parties had been cancelled during the summer due to heavy rain so the event was finally held indoors in December.
Nearly a hundred people attended the dinner and dance including partners and staff who had been at the firm during the last fifty years. These included former partner Anne Taylor who joined the firm in 1955 and she was invited by current senior partner Christopher Butterworth to cut the 125 celebratory cake.
Christopher Butterworth who is the third generation of his family in the firm said: "We are delighted, and not to say a little relieved, to have finally celebrated our 125th birthday with our past and present partners and staff. After two failed attempts to hold garden parties which were abandoned due to appalling weather, we finally had a wonderful evening celebrating our anniversary. The event was an excellent end to our year of celebration which has involved a number of events including fundraising evenings for Saint Michael's Hospice which has been our nominated charity for the year. We now look forward to another 125 years of working with families and businesses in and around Harrogate."
For further information, please contact Caroline Barr on 01423 340126 or Jonathan Mortimer on 01423 566666.