Aug 23
Celebrity TV Chef Announced As Speaker At Raworths Harrogate Literature Festival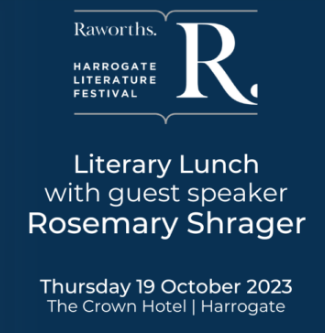 Renowned British chef, television personality and culinary educator, Rosemary Shrager, has been announced as the lunchtime speaker to launch the upcoming Raworths Harrogate Literature Festival in October this year.
The annual event, which is curated and produced by Harrogate International Festivals and sponsored by Raworths, has been named by Harper's Bazaar as one of the UK's Best Literary Festivals. 2023's Festival will open with a Literary Lunch with Rosemary Shrager, in association with Yorkshire Life, at midday on Thursday 19 October.
With a career spanning over four decades, Rosemary has established herself as a prominent figure in the culinary world.  She has made numerous appearances on popular cooking shows, as well as featuring in 'Ladette to Lady' and 'I'm a Celebrity… Get Me Out of Here!' Alongside her television appearances, Rosemary has authored several successful cookbooks and is highly regarded as a culinary educator, running her own cooking school. She has recently started writing crime novels, with her latest novel titled, 'The Proof in The Pudding'.
Sharon Canavar, Chief Executive of Harrogate International Festivals, said: "We can't wait to introduce Harrogate audiences to our exciting line-up for this year's literature festival and we are certain that Rosemary will deliver an insightful and entertaining segment which is not to be missed.
"Raworths Harrogate Literature Festival has a reputation as the hot ticket on the literature festival circuit, thanks to its stellar line up of literary names in a beautifully intimate setting. Keep an eye out for more details as we announce these on our website; there are many more exciting authors to be revealed!"
Rachel Tunnicliffe, Senior Partner at Raworths, said: "We are proud to be sponsoring the Festival in 2023, our eleventh year of sponsorship for this event. It is a remarkable occasion with a fantastic line-up each year, a true celebration of great books and writing."
Raworths Harrogate Literature Festival will return to the Crown Hotel, from Thursday 19 to Sunday 22 October 2023, with more details on the full programme to be announced.
Tickets for the Raworths Harrogate Literary Lunch with Rosemary Shrager are £40.00 (plus a booking fee), which includes a glass of wine on arrival, a two-course lunch, and tea or coffee with petits fours. To book tickets, visit the website here, or contact the Box Office on: 01423 562303.
Published on 24 August 2023