Oct 20
Bringing literature to life in lights – Raworths Harrogate Literature Festival 2020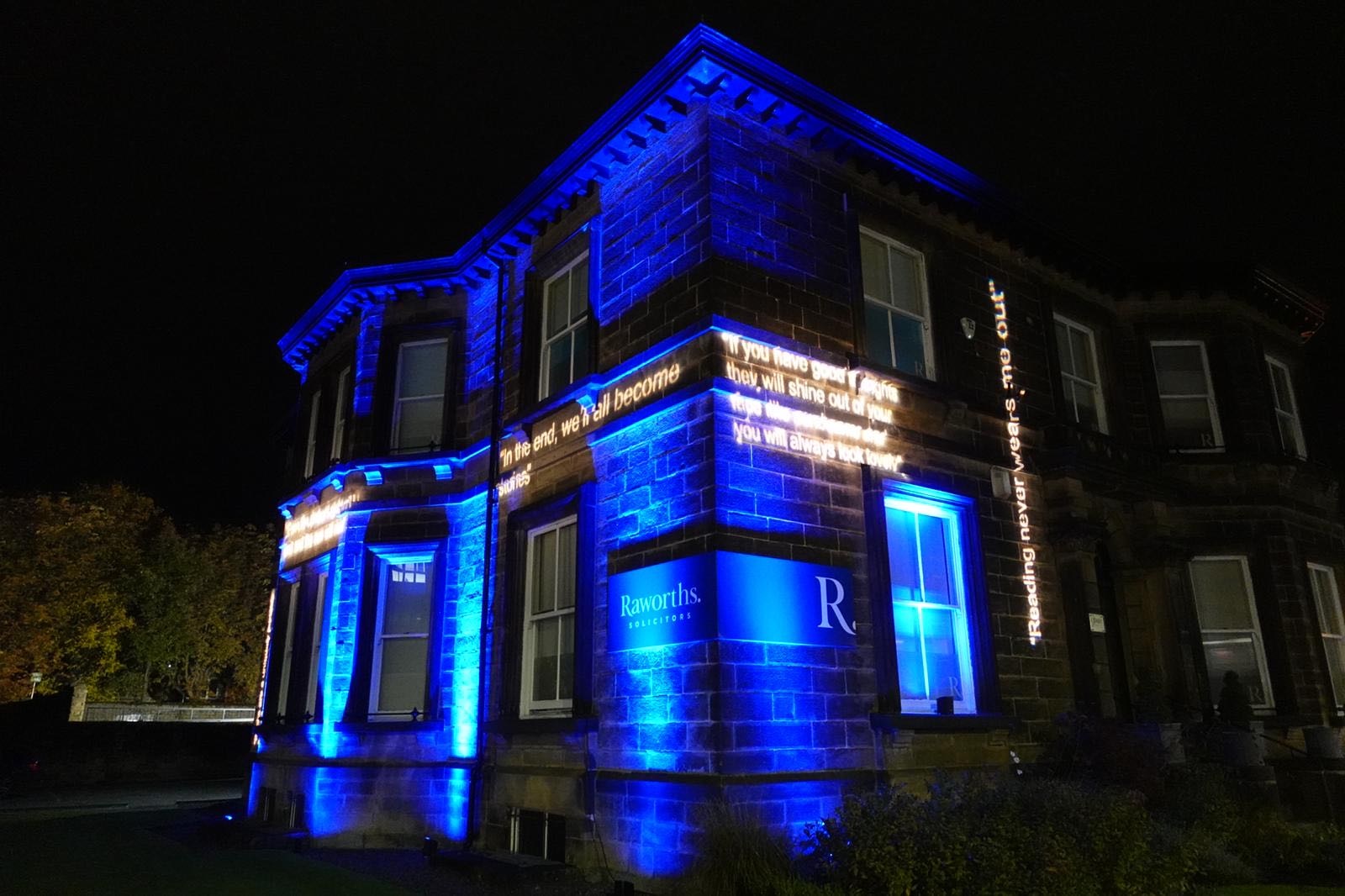 Literature was brought to life in lights, in Harrogate this evening (15 October 2020).
To celebrate the power of the arts, and the upcoming digital Raworths Harrogate Literature Festival, Harrogate International Festivals lit-up the offices of the Festival's title sponsor Raworths Solicitors with a selection of quotes from popular books.
Quotes were carefully chosen for their poignant meaning in this dark time, illustrating the light that the arts and reading can bring. Quotes included
'Even the darkest night will end and the sun will rise.' Victor Hugo;
'Books, are a uniquely portable magic.' Stephen King;
'In the end, we'll all become stories' Margaret Atwood; and 'Books, they let you travel without moving your feet.' Jhumpa Lahiri.
The Raworths Harrogate Literature Festival is being presented online in 2020 due to the current social distancing measures and restrictions in place on live Festival events.
Zoe Robinson, Raworths Managing Partner, said: "The content and delivery may have gone digital, but the inspiration that literature brings will continue to shine through."
For the arts charity Harrogate International Festivals, who usually create nearly 300 live events a year but saw their entire programme of live events decimated by the pandemic, this pop-up installation was the first opportunity to bring the arts into the community in person in many months.
Sharon Canavar, Chief Executive of Harrogate International Festivals, said "Whilst the coronavirus pandemic may have cast a dark shadow over the world and forced the cancellation and re-invention of our entire 2020 calendar of events, this installation is a beaming example of the light that literature and the arts can bring in the darkness.
Whilst there is no denying that this is a hugely challenging time for the Festival, and for artists, through this installation and our exciting digital weekend of Raworths Harrogate Literature Festival events, we support authors, creators and suppliers with much needed work, and bring them together with audiences as community in a celebration of literature. For we have never needed stories that explore what it means to be human, more than we do now."
The installation was created by Yorkshire lighting expert James Bawn, from Element 3 Design, who is renowned for bringing Emley Mast, the Shard and Harrogate1571 to light.
The Raworths Harrogate Literature Festival runs from 23 – 25 October and will stream on HIF Player on the Harrogate International Festivals website – click here to go to the Festival website.  Special guests include: Bernard Cornwell; The Reacher Guy: Lee Child and Heather Martin; Ken Follett; Natalie Haynes; Luan Goldie, academic and activist Elif Shafak; Hugo Vickers, Alexandra Shulman; Ariana Newmann; Jeremy Vine, Simon Mayo, Loyd Grossman; Rory Bremner, British Labour Party Politicians David Lammy MP and Jess Phillips MP; and the mother of Britain's most musical family: Kadiatu Kanneh-Mason.
For more information go to our dedicated Raworths Harrogate Literature Festival webpage – click here.